Business Verticals
Quad Tooling Technologies is structured into 4 Business Verticals - Tool Room Division, Sheet Metal Division, Injection Molding Division and Product Assembly Division. The Share-of-Business is Automotive ( 60%), Industrial Products (20%), Others (20%).
a. TOOL ROOM DIVISION:
We have established Engineering Design Centre and Manufacturing Facilities at TRD. We have State-of-Art CAD /CAM Software and dedicated team of Tool Designers for design of Injection Molds and Press Tools, Jigs and Fixtures, Design of Automotive and Engineering Parts & Assemblies. We follow DFM, DFS, DFA practices in our Design Process. Design Review Meetings are conducted for Projects by our In-house Subject-Matter- Experts and we involve our Clients for necessary review and approval processes. We have CAD, CAM and CAE Capabilities and Engineering Strength for Mold-flow Analysis, Form Analysis, FEM and CFD. We have dedicated CNC Programmers working in tandem with Designers, Manufacturing Personnel and Project Managers to ensure seamless engineering information flow.
b. SHEET METAL DIVISION:
We have established Press Shop comprising of both Mechanical and Hydraulic Presses with Capacity from 40-Tonnes to 300-Tonnes for Sheet Metal Stampings. We produce Sheet Metal Stampings on Dies manufactured Inhouse or provided by our Clients. We have standard safety and manufacturing practices established in our Press Shop. We follow Single-Minute-Die-Exchange, Tool History, Tool Card, Last Part Produced, Tool Maintenance History, and Inventory of Critical Spares to ensure Timely Delivery of the Parts. We have In-house experienced Tool Maintenance Technicians who regulary carry-out regular Maintenance of the Tools, Dies and Presses. We also have our Design Engineers and SMD Team working to improve Part Layout, Scrap Savings for our Clients right from Design and Development of Press Tools. We have experience in Design, Development and Supply of Stamped Parts and have expertise Forming Tools, Blanking Tools, Draw Tools, Deep Draw Tools, Progressive Dies and Stage Tools. We have overhead Crane facility and
Forklift
to facilitate easy loading and unloading of Large Dies.
c. INJECTION MOULDING DIVISION:
We have Injection Molding Machines from 80T to 1000T and can produce Parts of upto 3 Kgs. We have capacity to Load Molds of upto 2 meters in Length. We supply High Quality Injection Molded Parts to our Clients as per the supply schedule. We have experienced Quality Team which inspects incoming plastics raw materials, raw material drying procedures for hygroscopic materials using Hot-Ovens, Mold Set-up Inspection, Process Parameters verification as per standards and is then cleared for Mass Production. We adhere to periodic inspection of produced parts to ensure good quality and to minimize raw material wastages. We have dedicated good Plastics Raw Material Storage to track Received, Inprocess Materials which belongs to Clients. We carryout periodic mainatenance of Injection Molds and stock critical Spares which include Ejector Pins to Slender Cores. We cater to major OEMs and ensure high quality molded parts in excellent packaging. We use Production Planning Tools to ensure we meet the 100% On-Time-Delivery.
d. PRODUCT ASSEMBLY DIVISION:
We have established Product Assembly Division which is an extension of the other three verticals. Owing to our Engineering strength in Design and Development of Plastics Parts and Sheet Metal Stampings, we have moved up the Value Chain by supplying Assemblies and Sub Assemblies to Automotive and Engineering Clients. We have manufacturing capability of Jigs and Fixtures to ensure Poka-Yoke at all Stages. All our Assemblies go through stringent Quality Verification to ensure Zero-Rejections. We have envisaged customer requirements for supply of Sub Assemblies and Quad with its Engineering capability, Manufacturing capabilities of both Plastics and Sheet Metal under one roof is ideally placed to satisfy Customer requirements.
Industry wise share of business is as follows:
Automotive – 60%
Industrial products – 20%
Others –20%
With the major business activity related to automotive industry, the company is classified under the
"Automotive component manufacturing industry"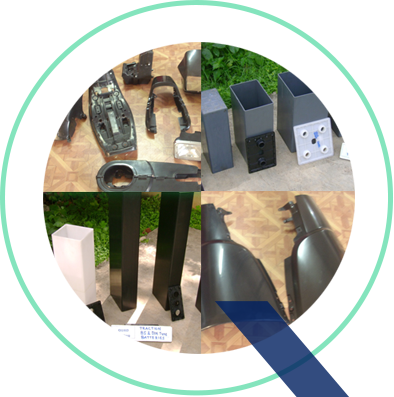 Test Data

OUR ESTEEMED CLIENTS